Rachel Weaver
Soloist, 2023 Autism Mother to Mother Luncheon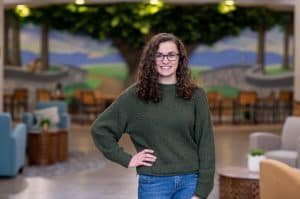 Rachel Weaver has been singing as long as she can remember. After she joined her elementary school
choir, Rachel knew that music was one thing that should always be a part of her life. Since then, she has
been involved in many community and collegiate theater performances, including Maryland
Entertainment Group, Lancaster Bible College, Dreamwrights Center for Community Arts, and many
others.
Rachel attended Hagerstown Community College and later Lancaster Bible College where she
graduated in 2020 with a Bachelor of Arts in Biblical Studies, Bachelor of Music in Vocal Performance,
and a Minor in Worship Arts. During her time at Lancaster Bible College, Rachel sharpened her passion
for leading others, but more than that, gained a deeper love for worshiping God with every part of her
life. Rachel studied under Francesca Aguado, Tiffani McLaurin and Abigail Martin, with whom she
studied jazz, musical theater, opera, pop, contemporary Christian as well as a variety of other styles.
Apart from singing, Rachel is also very passionate about conducting, orchestrating and composing music,
as well as dance and theater. In December of 2020 Rachel married her husband, Hart. They now live in
Hagerstown, Maryland with their two adventurous dogs, Beowulf and Bellatrix. Rachel then began
teaching voice lessons in Strasburg, Pennsylvania at Wieand Vocal Studio in September of 2020, where
she now teaches over 30 students. Rachel has also been serving as the Worship Ministry Resident (8:15
service) at Grand Point Church-Chambersburg since December 2021. Soli Deo Gloria.